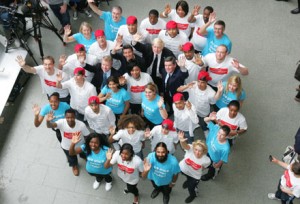 London: MEC Access, www.mecglobal.com, the leading sports, entertainment and cause marketing business, today launched a proprietary new research and analysis tool: Partnership Intelligence.
Partnership Intelligence is a global research study and online tool that provides in-depth analysis into consumer interest, media consumption and attitudes towards partnership platforms including Sport, Music, the Arts, Film, TV programming and Cause. This includes global and local properties such as the Olympics or the Oscars. It also delivers an analysis of property attributes, enabling a comprehensive assessment of the potential fit of a property with a brand's own values.
Partnership Intelligence allows brands to see how a platform or property is perceived. For example, it has found that the London 2012 Olympics is resonating with youth audiences, with 51% of males under 35 in the UK saying they either love or like the London 2012 Olympics, compared to just 30% of the male 35 and over category. As it is widely acknowledged that engagement will greatly increase as the Olympic Games begin, this is a positive sign that the youth audience – a notoriously hard demographic for brands to engage with – are already highly engaged with this property.
Furthermore, 25% of the younger group would be more likely to buy from an Olympic sponsor and the same proportion will feel more positively about an Olympic sponsor, compared to just 11% and 15% for males 35 and over. This demonstrates the value of sponsorship of such events, especially for brands targeted at this hard-to-reach group.
Through Partnership Intelligence, MEC Access can gain exclusive insight into present and future sponsorship deals. The tool can compare a brand's attributes to a platform/property's attributes in order to see how well they fit together, or what one may add to another and assess their strengths and weaknesses. When comparing the characteristics of the London 2012 Olympics to BMW, the official automotive partner for the London 2012 Olympic Games, the Olympics is perceived to be more creative, idealistic and friendly – traits that the desirable and trustworthy BMW would perhaps like to be aligned with.
Partnership Intelligence also allows MEC Access to identify the product categories that are of highest interest to those engaged with a property, a fact that is paramount in supporting comms planning strategies and allowing the agency to analyse partnerships and recommend further brand tie-ups. For example, 51% of respondents in the UK that like or love the London 2012 Olympics are interested in travel, 45% in clothing/fashion and 44% in technology/electronics. You can see, then, why Thomas Cook and Acer are Olympic sponsors, but perhaps brands such as Primark or asos may want to consider this type of sponsorship in the future.
Finally, the tool allows MEC Access to accurately assess media consumption habits across properties to recommend the most effective channels and platforms to engage with the desired audiences. In the case of the London 2012 Olympics, 13% of the British public plans to follow the events live online – considerably higher than the 7% for the FIFA World Cup, and so online advertising is a must for any sponsor.
Tove Okunniwa, Managing Director, MEC Access said, "Given the growing importance and increasing investment in partnerships around the world, the need for robust analysis to aid decision-making is paramount. Partnership Intelligence genuinely delivers strategic leadership to brands that want to get under the bonnet of their partnerships and drive value throughout their communications strategies. The information we can gather from it, for example showing potential sponsors which properties are most likely to drive maximum sales for their brands, is ground breaking and positions MEC Access as a truly valued business partner for its clients."