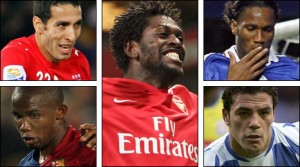 BBC World Service's flagship sports programme for Africa, Fast Track, has revealed the shortlist for the BBC African Footballer of the Year 2009 vote, as selected by football experts throughout Africa. It includes Didier Drogba (Chelsea and Ivory Coast), Michael Essien (Chelsea and Ghana), Samuel Eto'o (Inter Milan and Cameroon), Tresor Mputu Mabi (TP Mazembe and DR Congo) and Yaya Toure (Barcelona and Ivory Coast).
Host of Fast Track, Farayi Mungazi, comments: "It's a fascinating list. It's really nice to see a player such as Mputu Mabi, who plays in Africa, alongside the African stars playing in the Premiership or European leagues.
"It'll be a shock to some fans that last year's African Footballer of the Year winner, Mohamed Aboutrika of Al Ahly and Egypt, hasn't made it into the 2009 final five. But this award is designed to focus on the performance over the past 12 months. This year's contest could be really hard-fought."
The voting starts at 17.00 GMT today, Monday 30 November, and will run until Monday 4 January 2010.
Fans can vote online at bbcworldservice.com/africanfootball and by SMS to +447786 200 070.
The winner will be announced in Fast Track live from Angola on Friday 8 January 2010.
On Sunday 10 January 2010, BBC World Service will bring full coverage of the opening game of Africa Cup of Nations in Luanda.
Fast Track is part of BBC World Service's English-language programming for audiences across Africa, offering a comprehensive coverage of African sport. With his eye on sport right across the globe, the host, Farayi Mungazi, brings to the microphone a deep understanding of global sport. Farayi discusses the issues and asks the questions that every sports fan wants to hear.
Fast Track is broadcast on Mondays and Fridays (16.00 GMT) and on Sundays (18.20 GMT).