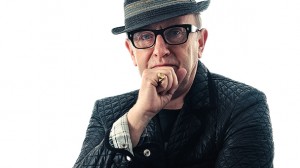 Legendary reggae DJ David Rodigan is to join BBC Radio 1Xtra with a brand new primetime Sunday evening show, starting on 17 February. He will also return to BBC Radio 2 with a new 13-part series this summer.
Rodigan's new show for 1Xtra will air between 7-9pm on Sunday evenings, bringing listeners the best of the reggae scene with the latest fresh sounds alongside classic tunes.
Speaking about his new Radio 1Xtra series, David said: "I am absolutely delighted to be joining BBC Radio 1Xtra where I can share my passion for both new cutting edge reggae and classic cuts, reflecting a genre of music which continues to play a paramount role in urban bass culture music."
Rodigan's new show is part of 1Xtra's continued commitment to playing the best in black and urban music with a world class line up of DJs.
Ben Cooper, Controller BBC Radio 1 and BBC Radio 1Xtra, said: "David Rodigan is a legend in broadcasting and it will be great to listen to him on Sunday evenings on BBC Radio 1Xtra. It's fantastic to welcome someone with his unrivalled knowledge and passion for reggae to the BBC."
David Rodigan is also returning to Radio 2 with a new 13-part series of his Sony award-winning show later this summer. Once again, Rodigan will showcase his love for all types of classic roots and reggae from the Sixties to the present by celebrating its back catalogue and looking to its future.
Rodigan started his broadcasting career over 30 years ago on BBC Radio London and he has gone on to build a reputation for bringing reggae to audiences around the world.
In 2005 he was inducted into the Radio Academy Hall of Fame and has also won three highly coveted Sony Radio Academy Gold Awards - The Music Broadcaster Of The Year in 2004; The Specialist Music Broadcaster Of The Year in 2009; and The Specialist Music Broadcaster Of The Year last year for his BBC Radio 2 series. In 2012 he was also awarded the MBE for services to broadcasting.