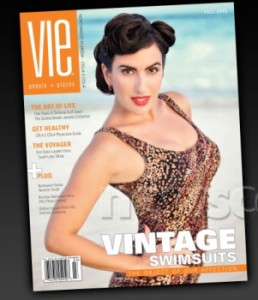 Grayton Beach : Launched in 2008 with a spring/summer issue, VIE – People + Places magazine has beaten the odds, rapidly earning a passionate fan base as Northwest Florida's hottest periodical. While long-established print publications across the country are closing their doors, the quarterly magazine, which caters to an educated and eclectic audience, celebrated the start of its third year with strong growth in circulation and revenue.
Offering fresh, interesting perspectives on life in the region spanning Pensacola to Apalachicola (COLA 2 COLA), VIE, based in Grayton Beach, Florida, is the brainchild of publisher Lisa Burwell. As president and founder of Cornerstone Marketing & Advertising, Inc., Lisa capitalized on what she recognized as a promising niche in the magazine marketplace. "The magazine has a local perspective with a global attitude," said Burwell.
"Despite volumes of press given to Florida's panhandle and its beaches, no one was dedicating in-depth stories to the variety of people and news that make this region so extraordinary," said Lisa.
Though the concept seemed solid, few, especially a newcomer to the industry, would have had the guts to launch a start-up magazine when print media are taking such a beating and online-based publications are viciously vying for advertising dollars. Nevertheless, with a distinct vision for this promising segment, Lisa, a seasoned and admired marketing professional, confidently decided to put the multimedia resources of her award-winning creative agency to the task of bringing VIE (which is French for "life") to life. In addition to the strong creative team already in place, she had numerous personal and professional connections to people with remarkable stories worth telling. She also convinced her husband, Gerald, an architect by profession and writer by preference, to come aboard as the magazine's editor-in-chief.
Thus, aligning the periodical's potential to Cornerstone's reputation, the Burwells gave advertisers good reasons to anticipate a high-quality production, both in print and online. Accordingly, as soon as the first issue hit the streets, the beautiful cover alone had consumers grabbing copies from the photographers and designers, who doubled as delivery people, before bundles of magazines could be delivered to stores. In addition to the photography, the fascinating topics, well-written in a lively yet literary manner, had the masses raving and reading from cover to cover.
The people—Northwest Florida's artists, entrepreneurs, entertainers, educators, leaders, philanthropists, and professionals—and their perspectives became the focus. "Most of our subjects see themselves as people who believe their unique gifts or stories have taken root because of this region they call home," said Gerald. He adds that VIE profiles are framed to offer distinctive views as well as to share something not previously known about the individuals or topics. "Even readers who are familiar with the subject matter are telling us how much they have learned," said Gerald. "They are enlightened by our articles."
"Whether the subject is art or business, natural resources or fashion, local history or global initiatives, the end result is a personal perspective," Lisa added. "Their observations make each volume of VIE rather like a time capsule of our region."
Included in those observations are reports from Fashion Week in New York, an excursion to Ireland, and a chamber of commerce trip to China. "While we couldn't choose a more idyllic home base," Lisa explained, "we love to explore, and our readers seem to enjoy coming along with us."
The effort to capture and keep readers' interests also entails maintaining a lively online presence. Free to the public, past VIE issues are catalogued in their entirety, and users can actually "flip" through the virtual pages by clicking on the corners. Another popular online feature, VIEtv, presents an array of sophisticated webisodes that offer all kinds of inside looks into the making of the magazine. Such behind-the-scenes viewing includes snippets of photo shoots, day-in-the-life segments, and spotlight interviews. "What makes that footage so fascinating is that it's spontaneous rather than rehearsed," said Lisa. In addition a mobile-friendly on-line magazine is now available.
An important aspect of the Burwells' inspiration stems from their desire to give back to the community that has been so good to them. Partnering with Legendary, Inc. and Emerald Grand, along with seven other businesses, VIE ran a Legendary Wedding Getaway contest for the ultimate prize of a fairy-tale wedding plus a weeklong honeymoon. With one year to plan their event, valued at over $50,000, the lucky couple was announced on Valentine's Day, 2010. In August, VIE named the big winner of a raffle it sponsored for a 2010 Jeep Wrangler. Profits were shared equally by Boys and Girls Clubs of the Emerald Coast, Caring and Sharing of South Walton County, The Taylor Haugen Foundation, and The Seaside Repertory Theatre.
To experience VIE firsthand, residents and visitors can find complimentary copies at retail and professional locations from COLA 2 COLA. Copies are also available at select bookstores, newsstands, and other periodical distribution points for $5.95 per issue throughout the country. For home or office delivery, annual ($19.95) and two-year ($34.95) subscriptions can be ordered online.