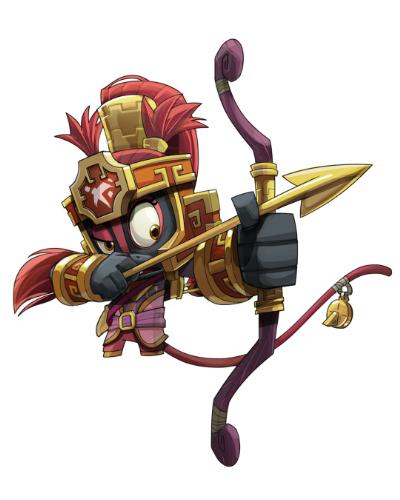 New York: Nickelodeon's Monkey Quest, an adventure-packed massively multiplayer online game (MMOG) and virtual world for kids, has become one of the most visited kids' virtual world sites just in its first month live. Since its April 2 launch, Monkey Quest has amassed 2 million registered users and 3.6 million unique visitors, according to comScore Media Metrix. To mark this milestone, Nickelodeon will add an exciting adventure to this ever-evolving game called The Return of the Guardian Knights. This extended storyline follows the mystery of the Guardian Knights, a lost patrol of ancient warriors who emerge from the Forgotten Temple after centuries of imprisonment.
Monkey Quest's new adventure introduces players to an expansive territory that features epic quests, ferocious monsters, weapons, abilities, and unique crafting recipes. The Return of the Guardian Knights will engage players in daily quests that will unlock trails, exclusive gear and uncover the secrets hidden beneath the Forgotten Temple. In addition, there will be community events where players can receive free gifts to assist them during their quests.
Members who opt for an enhanced gaming experience will have access to more challenging areas of the Forgotten Temple and can train to become a Guardian Knight. Players will also be able to journey with the Mysterious Warrior, learn the secret of his ties to the lost Guardian Knights, and battle the menacing Shadow Vespid – a wasp-like monster that protects the source of its power, the evil shadow shards.
Rated E for everyone, Monkey Quest is an ever-evolving world set in the World of Ook, a mysterious realm where monkeys rule. Free to play with a hybrid payment option; players who want an enhanced gaming experience can gain access to trails, quests, abilities and other exclusive items via membership. The hybrid payment model provides maximum flexibility for parents who can choose a subscription plan or a "pay as you go" option through NickCash, Nickelodeon's virtual currency. Subscriptions are available at $9.95 a month; $24.95 for 3 months and $79.95 for 1 year.
Monkey Quest is the newest addition to Nickelodeon's portfolio of virtual worlds and persistent online multi-user game experiences for kids, teens and families. These worlds include the pioneer youth-oriented online community, Neopets, and Petpet Park, a virtual life fantasy world spinoff from Neopian lore. Together, Petpet Park and Neopets attract more than 3 million monthly uniques in the U.S. In its eleventh year, Neopets continues to be one of the stickiest youth entertainment sites with more than 2 hours of time spent per visitor each month.