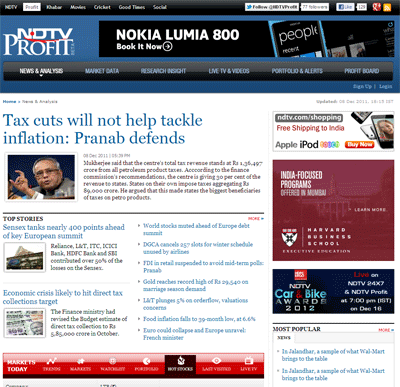 NDTV Convergence launches its financial and business portal NDTVProfit.com in a new avatar as a one-stop destination for live market data, research and expert insight and business news.

The website is focused at the fast growing community of investors in the country, many of them first-timers, and provides financial tools, easy and intuitive access to detailed and relevant data, tips and know-how to help power personal wealth creation.

The website launches with a brand new portfolio tool. It is a convenient, easy-to-use and very secure tool to track and plan not just an individual's wealth, but also that of his entire family, in one place.

Riding on its close, convergent relationship with the TV channel NDTVProfit, the new website also brings the user the opportunity to interact one-on-one with experts and anchors, get stock recommendations and tips in real-time on the popular program "Buy or Sell". Or then become a guru in his own community on the Profit board.

The best-in-class Live TV experience is still a showcase of the site. Additionally, a new video pod brings all the richness of NDTVProfit's programming in hundreds of easy-to-consume videos categorized for quick access. The user can also view all his favourite shows, every episode, at leisure at one click.

NDTV covers news like no one else and NDTVProfit.com brings the user real-time coverage of the biggest business and economic stories of the day. Content from New York Times adds an incisive element to global news and analysis on the website. Regular live blogs catch the minute action of big-ticket stories and market dynamics.

The plethora of new features are all designed with the one aim of bringing the user a clutter-free, non-intimidating experience as he tracks markets live, gets experts' views and immediate insight on market dynamics and a great viewing and reading experience.

Geodesic has collaborated on the website with NDTV Convergence as the technical partner. Geodesic brings to the table its decade-long expertise in building intuitive financial tools and solutions that are designed to encourage analysis by using advanced statistical engines and smart user interfaces.