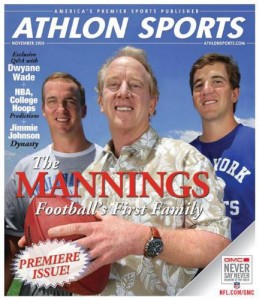 Nashville : Athlon Sports Communications, Inc. ("Athlon"), the Nashville, TN-based integrated sports media company , has announced that the premier issue of Athlon Sports monthly will launch next week.
Launch advertisers include General Motors, Geico, Wrangler Jeans Company and the U.S. Marine Corps. Commenting on the new magazine, Athlon CEO Stephen Duggan said, "We are extraordinarily pleased with this launch and the reception we have received from both newspaper publishers and national advertisers. Our editors look forward to engaging with our new audience of more than 22 million readers each month."
Athlon Sports will be distributed to 7,000,000 homes through 400 newspaper partners, including the New York Post, Chicago Sun-Times, Washington Examiner, and San Diego Union-Tribune. Newspapers from holding companies, including Scripps, CNHI, GateHouse, Heartland Communications, American Community Newspapers and American Consolidated Media will carry the magazine as well. "Athlon Sports is a good fit with the chain's market leading franchise and extensive sports offerings," said Jeremy Halbreich, CEO and Vice Chairman of Sun-Times Media.
Every issue of Athlon Sports will have special features that focus on the personalities of the players, the coaches, and the teams – the real stories behind the athletes. Special features will cover college football, the NFL, NASCAR, college basketball, Major League Baseball, the NBA, and golf in addition to soccer, hockey, tennis, Indy Car Racing, horse racing and Olympic sports. Other major areas of content will include youth/amateur sports, Ask Athlon Sports, Exclusive Q&A, Where Are They Now, and Reporter's Notebook.
Athlon Sports represents a new stage in Athlon's development as America's premier sports publisher. Founded in 1967, Athlon is the leading publisher of sports annuals in the United States. Through its integrated sports communication programs, Athlon delivers consumer and business-to-business marketing solutions to major corporate clients. Athlon has offices in Nashville, New York, Chicago, Cincinnati, and Atlanta.