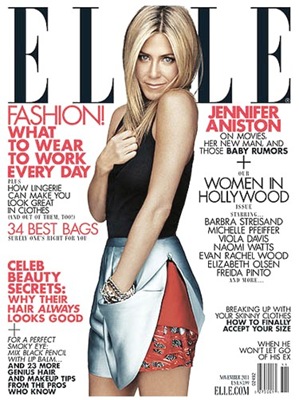 Sydney /New York : ACP Magazines and joint venture partner, Hearst Magazines International announced today the launch of an Australian edition of the world's most successful fashion monthly magazine, ELLE, in the autumn of 2012.
A global publishing phenomenon, ELLE, a brand owned by Lagardère Active, is the world's largest fashion magazine brand with at present 43 international editions reaching over 21 million people across the globe from the U.K. to the USA, Europe to Africa, South America, Russia, Asia and the Middle East. In 2010, 552 issues were published with worldwide copy sales of 79 million.
The joint venture between ACP and Hearst, which currently publishes four prominent international titles in Australia including Cosmopolitan (launched 1973 and acquired by ACP in 1988), Harper's BAZAAR (launched 1998), madison (launched 2005) and Grazia (launched 2008), is the most successful and longstanding media partnership in the country.
Phil Scott, managing director of ACP Magazines, said, "The joint venture between ACP and Hearst has been a collaborative, successful and mutually beneficial partnership for over 20 years. We share the same vision, challenges and goals, and together we publish some of the best-selling, most profitable and reputable magazine brands in Australia.
"It's a natural progression for us to partner with Hearst to launch ELLE in Australia. ELLE is a magazine brand that is right for our times—for readers and advertisers. It uniquely covers women's fashion, beauty, health, lifestyle and entertainment from an inspirational and achievable perspective. Its mixed and balanced content is accessible from both a global and local perspective.
"In addition to the printed magazine, the ELLE brand will be launched across multiple platforms inclusive of events, website, applications and mobile."
Duncan Edwards, president and CEO of Hearst Magazines International, added, "The launch of ELLE in Australia will bring together two of our most important partnerships: with ACP in Australia and with ELLE globally. Hearst is already the publisher of ELLE in 14 markets and we are delighted that Australia will be added to this list. Our team is the best in the business and will bring a fantastic edition of ELLE to the readers and advertisers in the Australian market."
Bruno Lesouëf, CEO of French and International Magazine Publishing divisions of Lagardère Active said, "We welcome this partnership with ACP, the market leader in Australia and Hearst Magazines, one of the world's leading magazine publishers. We are extremely proud of the launch of this 44th edition of ELLE in the Australian market, negotiated by François Coruzzi, executive vice president international, and his teams. This market is rapidly growing and very dynamic in the areas of fashion and beauty. This new edition of ELLE will benefit from the power of our global network to establish its success."