For retailers paying for ad placements on Facebook, there are two questions: Do they actually get consumers to click? And convert? Nanigans, a Facebook advertising-software company, studied more than 975 million Facebook ad impressions served to US consumers who would generate more revenues than they cost to acquire, reports eMarketer.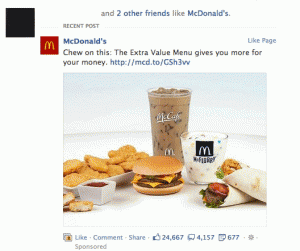 While ads in the sidebar performed poorly, garnering only a 0.04% clickthrough rate among high-value Facebook users, page post ads in the newsfeed saw a clickthrough rate more than 46 times higher, at 1.87%. ROI was also 14% greater for ads in the newsfeed, according to Nanigans. In addition, the cost per click in the newsfeed was less than one-third of Facebook domain ads.
US Retailer Desktop Facebook Ad Metrics, Newfeed vs. Total Facebook
For mobile vs. desktop newsfeed ads, the difference in performance was not quite as stark, but still, there was no question of mobile's superior metrics.
Looking at a different set of impressions for a similar pool of customers likely to eventually make purchases, mobile newsfeed ads achieved a considerable clickthrough rate of 3.38%. On desktop, ads in the newsfeed achieved about half that clickthrough rate. Likewise, the cost per click for the mobile newsfeed was just under half the cost on desktop.
US Retailer Clickthrough Rate and Cost per Click for Facebook Newsfeed Ads on Mobile vs. Desktop
As brands decide how best to allocate their paid social media strategy, it's useful to consider what ads get the most clicks—and from what kind of consumer.
Source:eMarketer