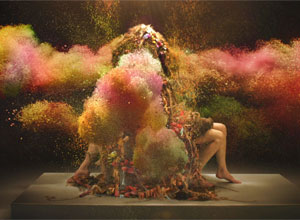 The legendary Saatchi & Saatchi New Directors' Showcase (NDS) has become one of the genuine highlights of the Cannes Lions International Festival of Creativity, and the 2013 edition will mark the 23rd year of this unique event. The NDS features the very best new directing talent, identified through our global network of agencies around the world, and through our relationships with key Internet sites. Hundreds of submissions are viewed by the Saatchi & Saatchi Worldwide Creative Board who make the final selection. Last year, 18 directors made the cut.
Open to directors of all film formats and styles, the NDS is free to enter, and the lucky few who are chosen for the 2013 showreel will have their film shown at the NDS on Thursday 20th June in The Grand Auditorium in Cannes. The NDS is one of the most popular events at the Cannes Lions International Festival of Creativity, which in 2013 celebrates its 60th year as the key event in the calendar of the international advertising and creative community.
If you think your work might make the cut, or you know a super talented director whose work you think merits consideration for the 2013 reel, you can submit work to the Saatchi & Saatchi contact in your region. Deadline for entries is Monday 15th April 2013.