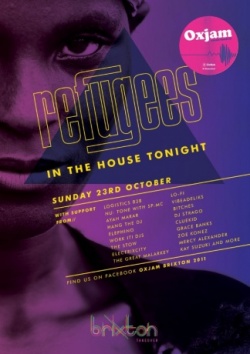 BETC London has created a series of posters for the Oxjam music festival that combine headlines conveying Oxfam's humanitarian challenges with the design of typical gig posters in powerful pastiche.

The posters, which will appear in the Brixton area in the run-up to Oxjam Brixton on October 23, employ titles such as 'Refugees - In The House Tonight' and 'Badly Neglected Boy – Alive' but are designed in the style of different musical genres.

Matthew Charlton, CEO of BETC London, says: "Oxjam is such a cool idea and we were delighted to be involved in a concept that is all about open source and empowering local people to create their own festivals under the Oxfam banner. In the world we live in now, where money is really tight and there are so many good causes to get involved with, we wanted to create some entertaining posters that create interest for what are genuinely entertaining and special events."

Oxjam is Oxfam's month-long music festival. It runs all through October with hundreds of events around the UK, all organised by volunteers who know and love their local music scene, all raising money to save lives around the world.

BETC London's work for Oxjam London will provide the organisers with a professional publicity boost that aids their not-for-profit endeavours and creates standout for the event at the end of a busy summer of musical festivals.

The posters include the names of the artists performing at Oxjam Brixton, including Logistics B2B Nu:Tone with SP:MC, Ayah Marar, Hang The DJ, and Elephino. The events Facebook page [URL] is included on all posters.