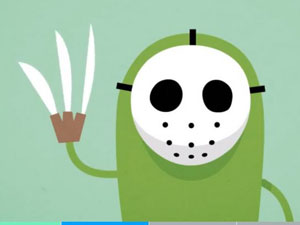 New York : McCann Erickson was a major winner at the 2013 Webby Awards, with McCann Melbourne's viral sensation "Dumb Ways To Die" scoring as the most-awarded campaign of the year by far. McCann Erickson won the most Webbys as a global agency, with 10 Webby awards.
McCann Melbourne's "Dumb Ways To Die" won seven awards. The campaign won three Webby Awards,one for Animation and two awards in separate categories for Viral Video and Viral Marketing. It won four People's Voice Awards: for Viral Marketing; Animation; Viral Video; and Public Service& Activism.
McCann Erickson won 10Webby Awards in total.McCann NY won 2 awards for its interactive Nature Valley Trail View technology. Nature Valley Trail View won a Webby for Media& Consumer Packaged Goods and a People's Voice Award for Best Use of Online Media.
McCann Colombia won 1 award for the Water Museum. The campaign won a People's Voice Award for E-Mail Marketing.
"This is another outstanding moment for the McCann brand," said Harris Diamond, CEO, McCannWorldgroup. "Dumb Ways To Die is just this wonderful, magical piece of work that connects across every culture, language, demographic and geography. And we're seeing work from our teams around the world, from offices large and small, that continue to win awards at global creative shows, like the Water Museum from our Colombian office and Nature Valley Trail View from New York.
John Mescall, executive creative director of McCann Australia and the creative director on "Dumb Ways To Die," said: "Our whole team is honored and overjoyed at the generous reaction we have received from the global advertising community. We never expected this video to be seen outside of Australia-let alone by the entire world."
The McCann Worldgroup network, with McCann Erickson and its sister agencies, won a total of 14 Webby awards. In addition to McCann Erickson, The Martin Agency won two Webbys for its "Clouds Over Cuba" website for the JFK Presidential Museum and Library. It won a Webby for Best Website Navigation and Structure and for Cultural Institutions. Momentum Worldwide also took home two Webby awards.
In addition to the awards above, McCann Erickson agencies received an additional 3 Webby Award nominations including Marketel McCann Canada: 1 Nomination for Muse Zoom Explorer, in Banner Campaigns, McCann NY: 1 nomination for Verizon Color Live Broadcast, in Entertainment/Handheld devices,  McCann NY: 1 nomination for #millionhoodies, in Public Service & Activism.